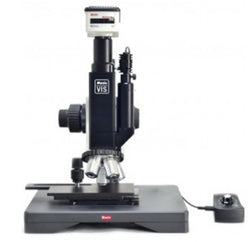 VIS100 E Video Inspection Microscope
A small-size, low-price metallurgical microscope combined with high resolving power metallurgical objectives, stand, X-Y stage, etc.  To meet online or offline observation or inspection, variety quality control and engineering analysis, failure analysis.
Description
Economical use, Nosepiece with RMS mounting
Magnification of tube
1X
Camera mount
Vertical
Observation image
BF / erect image
Light distribution
/
Tube lens (correction)
1X
Applicable laser
/
C-mount adapter
0.5X optional / 1X included
Objectives (Optional)
For Observation
/
For laser cutting
/
For metallurgical application
Plan 5X / 10X / 20X / 50X / 100X
Other Details
Applicable camera
1/2 inch or 2/3 CCD camera (C-mount type)
Illumination system
The 3W LED fiber-optic coaxial illumination with aperture diaphragm
Light source
logen bulb (21V, 150W) (optional)

The VIS systems are compact setups for all video inspection purposes in industrial labs. A simple quality check as well as an integration into a wafer probe station: all control tasks can be performed fast and convenient by pure monitor visualization. The standard basis of a VIS setup are objectives from the PSM-1000 range: Infinity corrected Plan Apochromatic lenses with unique working distances and outstanding image quality. A high transmittance from Near UV to Near IR wavelength range allows an implementation into probe stations. For more affordable solutions, LM Plan Achromatic lenses from the BA310-MET series can be applied. Starting with a single-objective setup, VIS systems with a motorized quadruple nosepiece for remote magnification change are available. External light sources as well as an integrated coaxial LED illumination for an individually tailored solution help to integrate quality inspection into the industrial workflow.