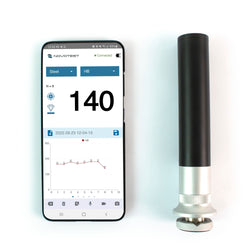 Wireless Hardness Tester NOVOTEST Lab UCI
The NOVOTEST Lab UCI wireless hardness tester implements the ultrasonic contact impedance method.
The users of NOVOTEST Lab UCI get the following advantages:
Ultra-portable device for quick hardness testing anywhere – in laboratories or in field conditions, with autonomous continuous operation up to 20 hours.
UCI hardness test method has almost no boundaries in relation to the test object, so this method is the most versatile of the existing ones.
Multifunctional application NOVOTEST Lab with a user-friendly interface and cloud archive.
Wireless
Ultraportable
Autonomous
Universal
Accurate
Widely applicable
Multifunctional
Easy to use

Measuring range
HRC:20~70
HB:90~650
HV:230~940
Tensile strength, MPa: 370~1740
User calibrations for any range (for example: HV20-2000)
Scales
HRC, HB, HV, HRA, HRB, MPA and can be calibrated for any other
Materials
Steel, aluminum, brass and can be calibrated for any other
Weight, g
170
Dimensions, mm
160*26 (36 with nozzle)
Battery life, h
48
Power supply / Charging
Built-in battery / USB 5V
Operating environment
Temperature:-30°C~60°CHumidity: 30%~80%R.H.