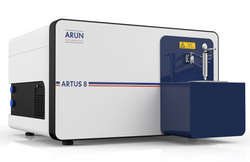 ARTUS 8
The ARTUS 8 fulfils the requirement of proving fast, precise and accurate analyses for the perfect melt. It is one of the most powerful and reliable spectrometers offering a complete range of analytical programs including cast irons, steels with carbon and nitrogen, and all alloying elements and their traces needed for treatment.
It offers all the advantages of a flexible and versatile CCD spectrometer. It even challenges some applications with classical photomultiplier systems, which are still the benchmark in high-end OES.
Quality Control and Assurance are essential to making your business successful. The ARTUS 8 is the ideal companion for incoming material, in-process testing, independent laboratory testing and final quality inspection. it is widely used in the steel manufacturing, cookware, automotive, aluminium extrusion, cast iron and carbon steel industries.

Risks such as material mix-ups and machinery damage are reduced thanks to adapters which detect and analyse oddly shaped samples and small pieces and the optimisable grade library which visually displays non-compliance alloy specifications.

Optical System
Paschen – Runge
Detector
CCD, changing to CMOS
Wavelength Range

146-680nm (Ultimate)

174-680nm (Standard)

212-680nm (Visible)

Power Supply
Line input 90 or 260 Volts AC 50-60 Hz
EMC

IEC61000-4-2

IEC61000-4-4

IEC61000-4-5

Working Temperature
10° to 35° C
Operating Humidity
20-80%
Argon Purity
99.998% or 99.999% purity
Argon Flow
When burning – 3L per minute, Standby 0.1L per minute
Software

•Intuitive software for simple routine operation

•Various user levels for secure and task-specific operations

Dimensions
721 x 440 x 770mm
Weight
80kg
Maximum Excitation Power
400VA
Optical Source Type
50VA
Discharge Frequency
400Hz maximum
Discharge Current
150A maximum
Spark Stand Aperture
12mm

The ARTUS 8 supports all metal types with the analyses of all their elements, in higher concentrations as well as the relevant traces. The range of factory calibrations is comprehensive with a wide choice of analytical programs for all applications and their alloys that include: Iron & steel Cast iron Aluminium Copper Magnesium Nickel Lead Tin Cobalt Titanium Go to the Resources page under Applications to read about the companies who are using the ARTUS 8 for the analyses.