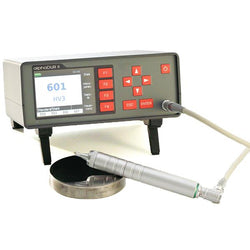 BAQ AlphaDur II - UCI Hardness Tester
The AlphaDur is a reliable and versatile portable hardness tester. It can be used in simple manual measurements as well as in fully automated production testing.
This portable tester allows for measurements to be taken quickly and accurately and features a large display where all of the test information is shown instantly. Different modes are able to be used with the press of a button.
Test loads between 0.3Kg and 10Kg (HV0.3 and HV10) can be chosen depending on the application and surface of the desired test sample.
Optional additional mini thermal printer.
Ultrasonic Compact Impedance measuring method
Interface - USB-host, USB-device, RS232
Hardness Scales - HRC, HV, HB, HRB and tensile strength
Built in NiMH rechargeable battery (7hr life) / recharged by power supply/battery charger
Data Memory - 500,000 data records with date, time and GOOD/BAD rating
Data transfer - Direct printout with mini printer - PC Software - Data transfer on USB device

Test Load - 3, 10, 20, 30, 49 or 98N (depends on probe)
Max sample thickness - Approx 5mm (depends on sample form)
Power Supply - 100-240V
Dimensions - 198x160x78mm
Weight - 1400g (device) / 190g (probe)