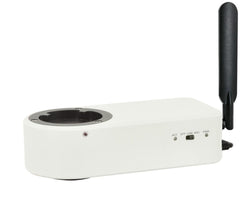 CA800 Fully Embedded Microscope Camera
Embedded USB WIFI Ethernet Microscope Camera
Embedded design not only for biological microscope, but also for stereo microscope. No need to modify, directly make your microscope have remarkable digital imaging capabilities.
Compatible Microscopes:
Olympus CX series, BX series, SZX series,
Nikon Eclipse 100, 200, Ei, Ci, Ni,
Leica DM series,
Zeiss Primo Star etc.
5G WiFi/USB 4K Embedded microscope camera Feature: -Super-resolution imaging. Perfectly match the original optical quality. -Perfect match for both stereoscopic and biological microscopes, as well as LED and halogen lamps. -Completely apochromatic, using high achromatic lenses, red, blue, yellow, green, and violet light are all eliminated, true color reproduction, fully meet the requirements of advanced research-grade microscopes. -High-quality light path design that eliminates all stray light, providing sharp,high-definition and impurity-free images; the back focus is short, and the adjustment is simple and convenient. -WiFi/USB 8.0MP HD Live image; -30FPS@3840x2160; -Full 1080P Record; -Simple and precise focusing, making the electronic accurately parfocal with the eyepieces; -Support Windows, iOS and Android system;

Windows

system demand

Microsoft® Windows® XP / 7 / 8 /8.1/10(32 & 64 bit)

CPU: i7 eight generation quad core or higher

Memory: 8G or above

Hard disk: at least 50 GB free space

GPU:standalone graphics card (NVIDIA GPU)

Wireless network card(must support IEEE 802.11ac)

iOS System Demand

iPhone 11 Pro/11 Pro Max/11

iPhone X / XS / XS Max / XR

iPhone 8/ 8 Plus

iPhone 7 / 7 Plus

iPhone 6s / 6s Plus / 6 /6 Plus/ SE

iPhone X/ 8/ 8 Plus/7/ 7 Plus/6s/6s Plus/ 6/6 Plus

iPad Pro (12.9-inch 2nd generation)/(12.9-inch 1st

generation)/(10.5-inch)/(9.7-inch)

iPad Air 2/iPad mini 4 and other new devices that

support the 5G WiFi (11ac) protocol

iOS11.0 or higher

Android

system demand

Android 5.0 or higher

CPU: dual-core 1.7GHz or higher

RAM memory:3G or more

Storage ROM: 8G or more recommended

Support 5G WiFi (11ac) protocol

Image Sensor
Sony IMX334 CMOS Sensor
Expose Mode
Rolling shutter
Maximum Resolution
3840x2160 (8,294,400 pixels)
Sensor Optical Format
1/1.8''
Pixel Size
2.0μm x 2.0μm
Dynamic Range
72db(non-HDR mode)
SNRmax
<0.64lx
Spectral Charactristics
380-650nm
Exposure Capability
3.9ms - 320ms, Automatic and manual
White Balance
Real-time auto, Single auto, Manual adjustment

Maximum Transmission

Frame Rate

USB mode:

30FPS@3840x2160,2592x1944,1920x1080,1024x768,

640x480

WiFi mode:

30FPS@3840x2160,2592x1944,1920x1080,1024x768,

640x480

Record format

Snapshot

Picture Format:JPG,BMP,PNG,TIFF,PDF

Resolution:3840x2160 ,2592x1944,1920x1080,1024x768,

640x480

Record

Video Format:MJPG format AVI file

Resolution:1920x1080,1024x768,640x480

Power Consumption

Wired:USB2.0 DC 5.0V 500mA

Wireless:USB2.0 DC 5.0V 1500mA

Olympus CX series, BX series, SZX series CA800 is a camera specially designed for the OLYMPUS BX microscope. The prism and light splitter inside the camera are designed according to the characteristics of the BX microscope, so we do not guarantee that it will have a good effect on other microscopes. Technically speaking, the focal point of each brand of microscope is different. Specifically for Leica DMI microscope with CA800-BX, please try to change the resolution as 4:3 ratio (5MP, 2592x1944), that might be better than current images. Leica & Zeiss microscopes normally support 0.63X mount Max., while the lens equipped in the embedded camera is 0.43~0.45X. Nikon Eclipse 100, 200, Ei, Ci, Ni, Leica DM series Zeiss Primo Star