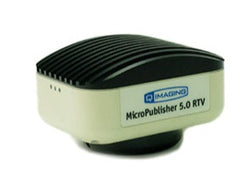 QImaging MicroPublisher 5.0 Camera - USED
The QImaging MicroPublisher with Real-Time Viewing (RTV) delivers unsurpassed interactivity and productivity by combining ultra-highresolution images with video-like, full-field-of-view frame rates up to 30fps. Scanning, framing, and focusing have never been easier than with the MicroPublisher RTV. The 30-bit color digitization produces high-quality images of brightfield, darkfield, and fluorescence work. For demanding lowlight applications, the MicroPublisher RTV Cooled camera minimizes thermal noise during long exposure times
High-Resolution IEEE FireWire™ Digital CCD Color Camera with High-Speed Real-Time Viewing
The QImaging Micropublisher with Real-Time Viewing (RTV) delivers unsurpassed interactivity and productivity by combining ultra-high-resolution images with video-like, full-field-of-view frame rates up to 30fps. Scanning, framing, and focusing have never been easier than with the MicroPublisher RTV. The 30-bit colour digitization produces high-quality images of brightfield, darkfield, and fluorescence work.

For demanding lowlight applications, the MicroPublisher RTV Cooled camera minimizes thermal noise during long exposure times. With an IEEE 1394 FireWire™ digital interface, the MicroPublisher RTV is easy to install, requiring a single wire to connect the camera to a computer or laptop. The MicroPublisher RTV eliminates expenses, installation problems, and inconveniences associated with framegrabbers and external power supplies.