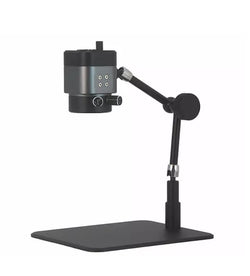 Designed for convenient table top inspection.  Ultra-high dynamic range HDMI camera allows you to see more details. Built-in multi-function image processing software

Ergonomic design, 360° universal pivot bracket, hovering freely.  The rear focus mode extends the working distance, and the working distance supports 44~200mm

Monitor angle can be finely adjusted, elevation angle is ≤135°, depression angle is ≤20°.  Lightweight and compact design, without complicated cables and accessories, easy to install and keep the table clean
The Viz X is a compact designed HDMI digital microscope, comprised of a video microscope, HD camera, LED lighting and HDMI connection to a monitor. Combining the ergonomic benefits of this unique integration, it eliminates the vision limitations of traditional microscope, allowing operators freedom of head movement, providing superb ergonomics and hand-eye co-ordination. A compact system, used for a wide range of visual inspection applications. As long as there are applications that require magnification and observation, such as repairing mobile phones, clocks, inspecting parts, art collections, etc., it will be needed.