Spectrographic
CIAR (Adhesive Backed) submicron
| Image | Part Number | Price | Variant | Purchase Quantity |
| --- | --- | --- | --- | --- |
| | 1511101 | $85.00 | CIAR (Adhesive Backed) Polishing cloth 200mm (5) | |
| | 1511102 | $132.00 | CIAR (Adhesive Backed) Polishing cloth 250mm (5) | |
| | 1511103 | $167.00 | CIAR (Adhesive Backed) Polishing cloth 300mm (5) | |
| | 1551100 | $39.00 | Polishing cloths PSA 31mm CIAR (25) | |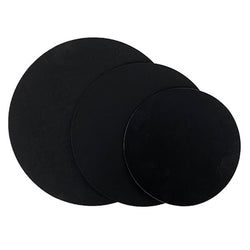 Spectrographic
CIAR (Adhesive Backed) submicron
Pressure Sensitive Adhesive (PSA) backed polishing cloth comes with peel back sheet to reveal an adhesive surface which sticks firmly to the platen.
The CIAR system is a soft micro porous adhesive backed polishing cloth with a chemical resistant short nap offering long durability and flatness.
Designed for slurry polishing at submicron size and chemical polishing.
Sizes available - 200mm, 250mm, 300mm and 32mm
Quantity - Pack of 5
Pressure Sensitive Adhesive (PSA) backed polishing cloth comes with peel back sheet to reveal an adhesive surface which sticks firmly to the platen.

The CIAR system is a soft micro porous adhesive backed polishing cloth with a chemical resistant short nap offering long durability and flatness.

Designed for slurry polishing at submicron size and chemical polishing.

Sizes available - 200mm, 250mm, 300mm and 32mm
Quantity - Pack of 5