Spectrographic
CIARPUL (Steel Backed) submicron
| Image | Part Number | Price | Variant | Purchase Quantity |
| --- | --- | --- | --- | --- |
| | 1531101 | $102.00 | CIARPUL (Steel Backed) Polishing cloth 200mm (5) | |
| | 1531102 | $155.00 | CIARPUL (Steel Backed) Polishing cloth 250mm (5) | |
| | 1531103 | $192.00 | CIARPUL (Steel Backed) Polishing cloth 300mm (5) | |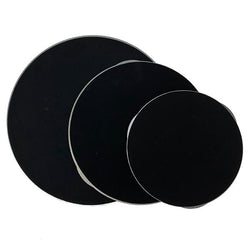 Spectrographic
CIARPUL (Steel Backed) submicron
The PUL range of polishing cloth offer fixation to a magnetic system which are steel backed or magnetic backed. This allows for easy interchange of the polishing cloths between polishing stages.
The CIARPUL system is a soft micro porous polishing cloth with a chemical resistant short nap offering long durability and flatness.
Designed for slurry polishing at submicron size and chemical polishing.
Sizes available 200mm, 250mm, 300mm
Quantity - Pack of 5
The PUL range of polishing cloth offer fixation to a magnetic system which are steel backed or magnetic backed. This allows for easy interchange of the polishing cloths between polishing stages.

The CIARPUL system is a soft micro porous polishing cloth with a chemical resistant short nap offering long durability and flatness.

Designed for slurry polishing at submicron size and chemical polishing.

Sizes available 200mm, 250mm, 300mm
Quantity - Pack of 5