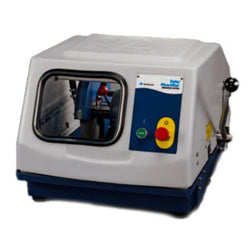 Refurbished Buehler Abrasimet Delta
The Abrasimet Delta is an abrasive cutter that features a manual cutting action with great cutting capacity, lighting and visibility. With its large work space and versatile vice options, this machine ensures quick and easy positioning of samples for cutting and sectioning.
The manual action of the bench top cutter allows the user to feel the cut quality while in use.
includes vices and recirc tank
Fully enclosed cutting chamber
Easy to operate
Emergency Stop button
Manual chopping action
Twin vices included
Re-circulation unit included
LED lamp for visibility while cutting
3 months warranty

Cutting Blade - 250mm
Cutting Capacity - 75mm
Motor - 3Kw
Power Supply - 410v 3 Phase
Machine Weight - 50kg
Machine Dimensions - 700x750x500mm