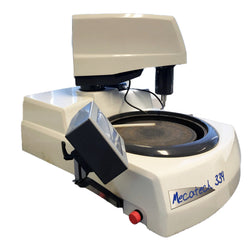 PRESI Mecatech 334 Automatic Polisher
PRESI Mecatech automatic polishing machine with 300mm platen.  Sample head for the polishing for 6 samples upto 50mm with single sample pressure and adaptable 210 diameter sample holders for central polishing preparation.

MECATECH 334 is a polishing machine robust, reliable and powerful, integrating the most advanced technologies for easy operation and simple maintenance!
With the touch screen LCD, positioned on the left or right, it is particularly easy to create or modify a method, save (100 memorized methods) and manage the functions of MECATECH 334. During the course of the cycle, the current operation is displayed and the next or previous allows the operator to anticipate the future consumption. The engines run strong and quiet inverter and a transmission belt Poly-V, no voltage adjustment (new technology) to provide 334 MECATECH silent operation providing comfort in the laboratory. The force applied on the samples is managed by an electronic proportional valve providing unprecedented accuracy. MECATECH 334 automatically calculates the force applied on the sample, whatever the number of samples, avoiding the risk of operator error. Reduced force at startup and shutdown cycle for optimum polishing quality. The supply of lubricants or abrasives is ensured by micro peristaltic pumps for accurate dosing, is generating significant savings and a perfect reproducibility, regardless of the user. The automatic locking of the polishing head to start the cycle avoids any risk of error due to the use of a handle. The lifting of the polishing head to the end of the cycle promotes usability and loading / unloading the specimen holder plates or sample units. In addition to the classical setting of polishing time, it is also possible to set the value of the desired material removal, which frees the operator from tedious manipulations and binding only in central pressure. The lighting of the polishing media by LED lamp eliminates shadows under the polishing head, allowing the user a better visual control during operation. The power supply in 230 V single phase can place MECATECH 334 where the user desires, without constraint of specific connections. MECATECH 334 was designed for ease of maintenance (easy to clean removable bowl, collar with integrated anti-splash) and streamlined customer service: the solenoid valve controlling the water supply is outside of the machine, the single printed circuit managing all functions can be easily replaced by simply removing the bowl, the LCD is deported, and the frequency is easily achievable without removing the cover.