Spectrographic
Diamond Cutting Wheels - Metal Bonded Low Concentration
| Image | Part Number | Price | Variant | Purchase Quantity |
| --- | --- | --- | --- | --- |
| | 1091127 | $321.00 | Diamond Wheel Low Concentration 4" x .012" 101 x 0.3mm - Arbor size 12.7mm | |
| | 1093127 | $338.00 | Diamond Wheel Low Concentration 5" x .015" 127mm x 0.4mm - Arbor size 12.7mm | |
| | 1094127 | $374.00 | Diamond Wheel Low Concentration 6" x .020" 152mm x 0.5mm - Arbor size 12.7mm | |
| | 1095127 | $374.00 | Diamond Wheel Low Concentration 7" x .025" 178mm x 0.6mm - Arbor size 22mm | |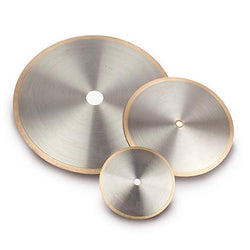 Spectrographic
Diamond Cutting Wheels - Metal Bonded Low Concentration
Sintered Metal bonded Diamond Blades intended for use with hard, brittle materials including glass, Al203, Zr203, Concrete, etc. Using medium fine diamond abrasive for slower cutting and high concentration. Each one sold as a single wheel.
Low concentration Metal Bonded Diamond Wheels for metallurgical precision cutters. These diamond wheels have been designed for cutting ceramics and mineral above 800 vickers hardness. A professional grade diamond blade has been designed for cutting very hard mineral type materials (i.e. agate, quartz, petrified wood, jasper, jade, etc) to offer thin sectioning - speed of cut is essential and when waste needs to be held to a minimum. This wheel produces smoother cuts, lasts longer and cuts faster than notched rim or plated diamond blades. Designed for use with a water soluble coolant. Blades 16" and larger have segmented rims.

Special arbors available upon request. Stock arbors can be bushed to smaller sizes. Please specify at time of order.

Each one sold as a single wheel.