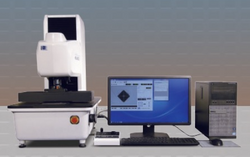 SPECIAL OFFER -Future-Tech FLV-50ARS-F Automatic Hardness Tester (EX Demo model)
The FLV-50ARS is part of the new generation of hardness testers. Allowing for multiple hardness scales, this is a modular system that can be configured to suit specific requirements and budgets. The magnification can be tailored to suit the application and multiple indenters can be fitted to offer greater versatility carrying out micro-Vickers, Vickers, Brinell and Knoop hardness testing.
FLV-50-ARS-F (load range from 50gf to 50 Kgf, fully automatic with motorized stage, autofocus, ARS-ZERO software). 10X and 50X objectives, and fully calibrated.

The best fully Automatic micro Vickers testers is the The Future-Tech FLV-50ARS-F with load cell technology offering high performance universal hardness tester features.

The load cell type loading mechanism is offered as a alternative technology to dead weight systems on micro hardness testers and Vickers hardness testers. Calibration advantages are offered on load cell and each load is certified independently to ensure calibration across the range of loads available.

The ultra-wide range of 50g to 50kg is offered to effectively replace a range of hardness testers to offer both micro hardness and conventional Vickers hardness with the additional facility for low load Brinell. One unit can cover the very wide range from the "micro" to the "macro".

Manufactures with a precise Central Processing Unit and feedback control system stabilises the test load accuracy across the range of hardness for a hardness methods micro Vickers, Vickers and Brinell. The test load rage is offered at 1 gram increments to allow for adaptation of hardness load to meet the most demanding hardness test and material control applications.

when a requirement for a Multi-Function for Hardness Testing, offering the most comprehensive hardness scales we can test more material types.

The advantage for many testing labs is combining different test methods in one Universal hardness tester, which allows significant cost and space savings, flexibility and user-friendliness. Spectrographic offers a competitive range of dead-weight models up to best selling load-cell type systems. These Universal hardness testers can cover Rockwell Regular, Superficial as well as Brinell and Vickers scales in one single machine with support from an established manufacturer and a responsive local support company.

Focusing Methods - Automatic operation (by integrated auto-reading software) / Manual operation (by motorised positioning system)
Turret Rotation - Automatic-motorised (by integrated auto-reading software)
Measurement of indentation - Automatic reading/manual reading (by integrated auto-reading software)
Camera - Automatic measurement by Built-in Type 1.3Mpixel / 5Mpixel (optional)
Safety Device - Protection cover on turret for indenter and each objective lens

Conforms to ISO 6507 / ASTM E92 / JIS Z 2244
Test loads

Vickers: HV 0.05, 1, 0.2, 0.25, 0.3, 0.5, 1, 2, 2.5, 3, 4, 5, 10, 20, 30, 50 kgf
Knoop: HK 0.05, 1, 0.2, 0.3, 0.5, 1, 2 kgf
Brinell: HBW 1/1, 1/2.5, 1/5, 1/10, 1/30, 5/6.25, 2.5/15.6, 2.5/31.25 mm/kgf
Optimal load setting: Possible to set max 64 kinds of test load in a range of 05-50Kgf by min 0.01Kgf

Loading system - 0.05-50Kgf Test Load: Automatic direct loading system with load-cell closed-loop feedback
Load-Cell Type - 0.05-50Kgf: by double load-cell (apply test load by 10gf)
Load Applying Speed

Initial Descending Speed (to 0.15mm level on specimen surface): Approx. 180um/s
Effective Loading Speed: Approx. 30um/s for under 1kgf Test Load and Approx. 80um/s for over 1kgf Test Load

Dwell Time - 5-99sec
Indenter

For Vickers Test (HV): 1pc
For Knoop Test (HK) and Brinell Test (HBW): Tungsten Ball 1mm, dia. 2.5mm (OPTION)

Objective Lens

Infinity Corrected Long Working Distance (LWD) Lens 2pcs: X10 & X50
Infinity Corrected LWD Lenses / Max. 5pcs: X1.25, X2.5, X5, X20, X40, X100 (OPTION)

System control

Software - FT-ZERO (Windows 10 / 64bit) / Display Size 23"
Output Signal - USB (RS232C Converter: built-in)
Dimensions - Auto 150 x 150 mm

X-Y Stage Movement - AUTO MAX MOVEMENT : (X)180 x (Y)110mm with joystick controller
Max height of specimen - 210mm From Auto Stage Top
Max depth of specimen - 180mm
Light Source

Bulb - LED illumination
Filter - Manual Adapting/Removing
Aperture Diaphragm - Flexible Type Aperture (OPTION)

Power Supply - 240v
Dimensions - 820x415x650mm
Weight - 95Kg