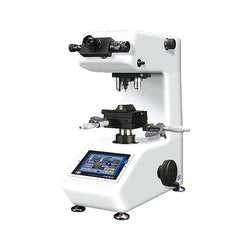 Future Tech FM-810 Micro Vickers Hardness Tester
The FM-810 micro hardness tester is capable of performing a Vickers, Knoop, Brinell and Fracture Toughness measurements precisely and quickly. This is a modular system that can upgraded to an automatic system. It is part of a comprehensive range of Future Tech hardness testers that enable the user to tailor the machine for specific applications.
The FM Micro Hardness Tester series prides itself on ease-of-use and a step by step system of upgrading its specification, but with the user maintaining a handle on its capabilities. This means that when the tester get increasingly sophisticated, the operation remains simple and easy, therefore achieving greater results, but with less work.
USB port output
Equipped with the cylindrical/spherical offset function and the specimen thickness calculation function
Advanced colout LCD touch panel operation and display
Brinell testing
Fracture toughness testing, Kc
Clear view and easy measuring
A variety of selectable loads
X-Y coordinate display
4 Objective lenses (optional)
2 Indenters for HV/HK measurements (optional)

Test Load
Type A
gf: 5 / 10 / 25 / 50 / 100 / 200 / 300 / 500 / 1,000 / 2,000
Type B
gf: 1 / 3 / 5 / 10 / 50 / 100 / 200 / 300 / 500 / 1,000
Type C
gf: 1 / 5 / 10 / 25 / 50 / 100 / 200 / 300 / 500 / 1,000
Type D
gf: 1 / 5 / 10 / 25 / 50 / 100 / 300 / 500 / 1,000 / 2,000
Type E
gf: 1 / 3 / 5 / 10 / 25 / 50 / 100 / 300 / 500 / 1,000
Loading Mechanism
Automatic Load and Release Method
Loading Applying speed
60m/sec
Dwell Time
5-99 sec
Turret Mechanism
Automatic
Diamond Indenter
Standard
Vickers Indenter (HV)
Option
Knoop indenter (HK) / Two indenters (HV+HK) are available on the special Dual Indenter Turret simultaneously
Object Lens
Standard
2 Lenses (x50 and x10)
Option
Max. 4 Lenses (x50 and x10 plus 2 Lenses)
Eyepiece
x10
Measuring Microscope
Type
Electronic
Max. Measurement Length
In case of x100: 850m / In case of x500: 170m
Min. graduation
Digital: 0.01m (In case of x500)
Min. measurement unit
Digital: 0.01m (In case of x500)
X-Y Stage
Type
Manual
Dimensions
100x100mm
Max. Movement
(X)25 x (Y)25mm
Min. micro graduation
1/100mm
Option
Digital microhead (Panel display)
Precision Vice
Max. opening
50mm
MAX. HEIGHT OF SPECIMEN
95mm
MAX. DEPTH OF SPECIMEN
115 mm
TEST PARAMETER
HV / HK / HBS / HBW / Kc
FRACTURE TOUGHNESS TEST (Kc)
Conform to JIS R1807 / IF Method
HARDNESS CONVERSION
Conform to SAE (J-417b) & ASTM (E-140)
OPERATION PANEL (SHEET SW for FM-110 / 310 Series & TOUCH PANEL SW for FM-810 Series)
START / RESET / DWELL TIME / LIGHT UP-DOWN / TEST LOAD / CONVERSION SCALE / TURRET ROTATION (For Auto-Turret Type) / CLEAR
DATA DISPLAY (LED for FM-110 / 310 Series & LCD for FM-810 Series)
D1/ D2 / HV-HK / HARDNESS VALUE / CONVERSION DATA / OK-NG CRITERIA / START(Blinking for Loading) / TEST TIMES/etc.
DATA OUTPUT & PRINT OUT
RS232C / CENTRONICS (D1 / D2 / HV-HK / HARDNESS VALUE / TEST LOAD / OK-NG / CONVERSION SCALE / CONVERSION DATA / STATISTIC DATA/etc.)
OK / NG CRITERIA
Limit setting and HI / OK / LO display
SELF DIAGNOSIS
Display troubles with motors and switches
LIGHT SOURCE
LED
OPTICAL FUNCTION
Aperture diaphragm / Field aperture / Colour filter: Replaceable
ACCURACY
Conform to JIS B-7734/B-7725, ASTM E-384, and ISO 6507-2
PHOTOGRAPHIC DEVICE
Capable to mount at any time on top of the machine (Camera/ Attachment: Option)
DIMENSIONS
186x450x504mm
WEIGHT
Approx. 40 kg (Including Standard Accessories)
POWER SUPPLY
Single phase AC 100-240V 50 / 60Hz