Spectrographic
Phenolic Red Compound- Standard Mounting
| Image | Part Number | Price | Variant | Purchase Quantity |
| --- | --- | --- | --- | --- |
| | 1110020 | $46.00 | 2.5kg Red Phenolic Standard Mounting | |
| | 1120020 | $111.00 | 10kg Red Phenolic Standard Mounting | |
| | 1130020 | $271.00 | 25kg Red Phenolic Standard Mounting | |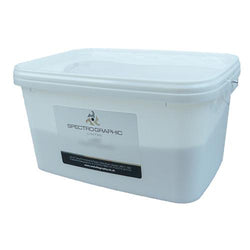 Spectrographic
Phenolic Red Compound- Standard Mounting
The use of red phenolic resin is ideal for colour coding of samples and offers a high quality hot mounting resin.
The red mounting resin is a thermosetting powder and is formed at 180 degrees C under pressure in a hot mounting press.
Available in 2.5 Kg (M03003), 10 Kg (M03103), 25 Kg (M03152).