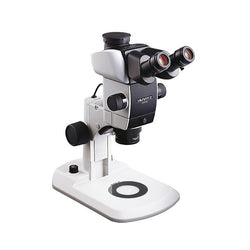 Huvitz HSZ-730TR Trinocular Transmitted Light Stereo Microscope
The Huvitz HSZ 700 Stereo Microscope series with Galilean, (parallel) optical system offers a superior modular microscope package. The Huvitz 700 system offers a "real image" and the stereo microscope is considered a superb research tool with longer working distance and superior image quality in terms of distortion and aberration.
A range of easily changeable auxiliary lenses are available to offer a magnification range from 4x to 162x. Options are available for the microscope stand to offer a versatile approach to microscopy with a full range of illumination options.
Connected to a high quality Lusis microscope camera and Panasis software the HSZ 700 series offers a fantastic research tool with image capture and measurement capability.
--
Stereo Microscopes are optical microscopes that use incident light illumination for inspection.