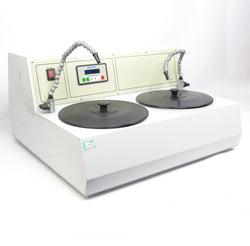 Labpol Duo 8 Metallurgical Grinder Polisher
Twin metallurgical grinder and polisher for 200mm / 8 inch consumables.
This metallurgical grinding and polishing machine offers variable speed twin platens. With PRESI reflex system for holding grinding papers and polishing cloths.
The machine has been fully refurbished checking the bearing and water system plus electronics. The bodywork has been repainted and offers an excellent machine at low cost.
This machine has now been sold, however we do other similar machines coming in all the time, so please get in touch.