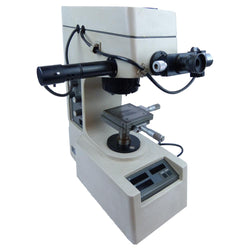 Leco Microhardness Tester
Leco Microhardness Tester fully serviced and in perfect working condition for testing the hardness of metals. Once on site the machine can receive a UKAS or in house calibration depending on your preference.
This hardness tester offers a load range of 10 grams to 1000 grams for micro hardness and knoop hardness testing.  The digital ocular offer a hardness value displayed on the front screen.
A digital camera can be connected and full computer based measuring can be installed to give manual or automatic computer measurement.
950-018
This machine has now been sold, however we do other similar machines coming in all the time, so please get in touch.
Model type M-400-G1

Leco Microhardness Tester fully serviced and in perfect working condition for testing the hardness of metals. Once on site the machine can receive a UKAS or in house calibration depending on your preference.

This hardness tester offers a load range of 10 grams to 1000 grams for micro hardness and knoop hardness testing. The digital ocular offer a hardness value displayed on the front screen.

A digital camera can be connected and full computer based measuring can be installed to give manual or automatic computer measurement.

950-018