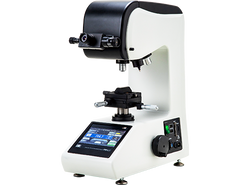 FM-LXR Micro Vickers Hardness Tester
By adopting the Load-cell load system, multi-stage load switching is possible.
The load switching work has evolved from the conventional dial operation to a smooth touch panel operation.
Any load can be selected when ordering. (within the minimum to maximum load range)
Equipped with a hardness conversion function.
During HV measurement, the conversion value to any scale can be displayed on the front panel at the same time.
Next-Generation Microhardness Tester.
Built-in camera with an automatic indentation reading.

Best performance and larger field of view is guaranteed and the high-resolution camera and dedicated software is equipped as standard.
The indentation is displayed on the PC/tablet and automatically measured.
Significantly reduces the burden on operators and individual differences in reading.

Item
FM-LXR
FM-LX
Test load
8 load levels for A type: 10/25/50/100/200/300/500/1000gf
9 load levels for B type: 50/100/200/300/500/1000/2000/5000/10000gf
* Arbitrary setting within the minimum to maximum load range is possible only at the time of shipment from the factory. Minimum set load: 1 gf for both types, maximum 20 stages can be set.
Test load switching method
Load-cell type
Loading mechanism
Automatic load/hold/release method
Load applying speed
60μm/sec (Compliant standards: JIS B 7725, ISO 6507-2, ASTM E92: 15 to 70μm/sec)
Dwell time
5 ~ 999sec
Turret mechanism
Rotation: Automatic / Form: 15° tilt type 6 positions
Diamond indnter
Standard
1 Vickers indenter (HV)
Option
Vickers indenter (HV), Knoop indenter (HK) or Brinell indenter (HB): total 2 can be installed
Infinity objective lens
Standard
2 Lenses ( X 50 & X 10)
Option
Up to 5: (2 standard lenses + 3 additional lenses): X1.25 / X2.5 / X5 / X20 / X100
*5 lenses + 1 indenter or 4 lenses + 2 indenters
Automatic measurement camera device
Standard equipment
(Details below)
-
Light source
Built-in LED light source
Dimensions
W283 x D480 x H620mm
Weight
45kg
Power supply
Single phase AC100~240V 50/60Hz