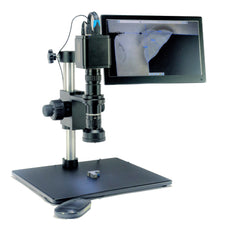 Macro Digital Zoom Video microscope
Digital Zoom microscope with polarising ring light and measurement functions adapted for weld test measurements.
The camera system offers HDMI, WIFI outputs. The camera can take images, videos and make calibrated measurement, it can work without PC. This microscope has been designed for application in the fields of industrial inspection and scientific research. Modularisation product portfolio and excellent performance make this a better choice in these areas.
Magnification range 1.65×-1050×, working distance 0.4mm-270mm, object field of view 0.12mm-72mm.

Features

1. Adopt apochromatic parallel optical imaging system, use advanced multi-layer coating technology. Get high-resolution and high contrast images, naturally restore the true colours of observed objects.

2. Compact design, it is very suitable for the small installation space.

3. Zoom ratio 1:8.3, zoom range 0.6×-5×, standard working distance 88mm, can meet the requirement of circuit board, electronics, semi-conductor and other industrial inspections.

4. There are a variety of auxiliary lens and C-mount eyepiece adapter for option, make the system's total magnification range 1.65×-1050×, working distance 0.4mm-270mm, object field of view 0.12mm-72mm.

5. LED Ring light is standard, Polarizing illumination, Coaxial illumination system are optional, Coaxial illumination adopts single high brightness 3W LED, colour temperature 5500K, uniform lighting, suitable for high reflectivity surface precision detection and limited exterior lighting occasions.

6. Adopt modular design, various additional accessories are optional to make the microscope a powerful devoice for your jobs.

7. The camera system comes with a HDMI, WIFI camera and 12.5" retina LCD screen, controlled by mouse.

Specification

Item
Specification
Optical System
Infinite apochromatic parallel optical system
●
Zoom Lens
Optical zoom magnification: 0.6-5.0×
●
Zoom ratio
1:8.3
●
Mounting Size
Φ40mm
●
Digital Camera
BWHC-1080B digital camera with HDMI and WIFI output, can capture 5.0MP pictures, 1080P videos and do measurement, control with mouse
●
BWHC-1080BAF autofocus digital camera with HDMI and WIFI output, can capture 5.0MP pictures, 1080P videos and do measurement, control with mouse
○
BWHC-1080D digital camera with HDMI and WIFI output, can capture 2.0MP pictures, 1080P videos and do measurement, control with mouse
○
BWHC-1080DAF autofocus digital camera with HDMI and WIFI output, can capture 2.0MP pictures, 1080P videos and do measurement, control with mouse
○
BWHC-4K8MPA digital camera with HDMI, GigE and WIFI output, can capture 8.0MP pictures, 4K videos and do measurement, control with mouse
○
LCD Monitor
12.5 inches LCD screen, resolution: 1920×1080.
●
Color display: 16.7m
●
Brightness: 300Nit
●
Contrast: 800:1
●
Visible angle: 170° horizontal & vertical
●
Power supply: input AC100-240V, output: DC12V/5A/60W
●
Input interface: HDMI1, HDMI2
●
Output interface: 3 units of DC5V/2A
●
C-mount Adapter
0.3× C-mount adapter
○
0.4× C-mount adapter
○
0.5× C-mount adapter
●
0.67× C-mount adapter
○
1× C-mount adapter
○
1.5× C-mount adapter
○
2× C-mount adapter
○
3× C-mount adapter
○
Auxiliary Lens
0.3× /WD: 270mm
○
0.5× / WD: 160mm
○
0.6× / WD: 130mm
○
1× / WD: 88mm
●
1.5× / WD: 52mm
○
2× / WD: 39mm
○
Infinite LWD Plan Achromatic Metallurgical Objective Lens
5×, NA: 0.12, WD: 26.1mm
○
10×, NA: 0.25, WD: 20.2mm
○
20×, NA: 0.40, WD: 8.8mm
○
40×, NA: 0.6, WD: 3.98mm
○
50×, NA: 0.70, WD: 3.68mm
○
60×, NA: 0.75, WD: 1.22mm
○
80×, NA: 0.80, WD: 1.25mm
○
100×, NA: 0.85, WD: 0.4mm
○
Infinite LWD Plan Apochromatic Metallurgical Objective
5×, NA: 0.13, WD: 44.5mm
○
10×, NA: 0.28, WD: 34mm
○
20×, NA: 0.29, WD: 31mm
○
50×, NA: 0.42, WD: 20.1mm
○
Coaxial light Device
Coaxial Device, light input port Φ11mm (does not include light source)
○
Coaxial point light source: 3W LED, 5500K, brightness adjustable
○
Polarized Coaxial Device, light input port Φ11mm (does not include light source)
○
Ring Light
LED Ring light, brightness adjustable
●
Polarized LED Ring light, brightness adjustable
○
Other Accessories
Metallurgical objective adapter (used to connect metallurgical objectives onto the zoom body)
○
Triple Nosepiece for metallurgical objectives
○
BSL-3B LED light source with dual goose neck light guide, 6.5W
○
BMS-302 X-Y moving stage
○
Stand and focus arm
BA1 Pillar type plain stand with coarse focus arm
●
BA2 Pillar type plain stand with coarse and fine focus arm
○

Note: ●Standard Outfit, ○Optional

Microscope measurement using PC software installation.

The Measurements menu is used for measuring images on the personal computer, you can measure the image with many geometrical shape at ease. The App uses Layer technique to manage the measurement object to ensure image integrity is maintained.

3 point angle
4 point angle
Point counting
Line - Arbitrary Line
Line - Horizontal Line
Line - Vertical Line
Line - Multi-point Connection
Line(3 Points)>Arbitrary Line
Line(3 Points)> Horizontal Line
Line(3 Points)>Vertical Line
Parallel lines
Two Parallel line sets
Vertical -Four Points.
Vertical -Three Points
Rectangle
Ellipse
Circle - Centre+Radius
Circle - Two Points
Circle - Three Points
Annulus
Two Circle - Centre+Radius (R)
Two Circle - Three Points (3)
Arc
Text
Polygon
Curve - Random Connection
Curve - Multipoint Connection
Scale Bar
Arrow
Z Order

Microscope measurement software using HDMI Monitor

The measurement menu is available on the HDMI monitor and can be used for measuring and annotating images.

Object Select
Angle
Arbitrary Line
Parallel
Horizontal Line
Vertical Line
Rectangle
Circle
Ellipse
Annulus
Two Circles and Centre Distance
Arc
Curve
Make Calibration