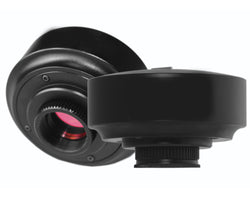 MShot MDX4 Microscope Camera WIN7
CMOS Camera MDX4 is a microscope camera with software , a colour CMOS sensor in 14 megapixels. It can be connected to any standard trinocular bio-microscope, stereo microscope and metallurgical microscope to achieve convenience microscope imaging. With advantages of high transmission speed, good colour rendition, clear image and easy storage, etc. MDX4 CMOS microscope camera is widely used in the field of microscopy for industrial quality management, teaching, material analysis, clinical examination and machine vision, etc. This digital camera  makes the complex work become easy, interesting and can be finished efficiently.
MDX4 Microscope camera adopts a colour CMOS sensor in progressive scan mode, it features fas preview and sharp image capture with good colour reproduction. Widley used in scientific research, industrial applications for metallurgical microscopes in material analysis and biological application for image capture and microstructural analysis.

Features


Hi-speed USB3.0 data interface
Real 14 megapixel progressive scanning colour CMOS sensor, no compression, no interpolation;
Wide dynamic range, supports static image capture (JPG, BMP);
Plug and play, no need of external power supply;
Support standard C-mount lenses and all kinds of customized lenses, rigid and durable aluminium shell.




Advantages

Capture image under high clarity, good color reproduction. Automatic mode control of exposure time, white balance, contrast, brightness, saturation and chromaticity.
Plug and play, easy to connect by USB3.0 data interface. Without need to additional acquisition devices, can achieve real-time uncompressed images. By Mshot microscope imaging software, you can capture and preview image at the same time with microscope.
Dynamic recording function support compressed format video to store easily.