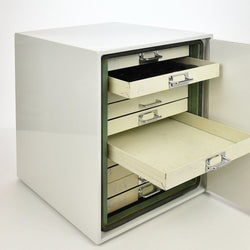 Used Metallurgical Desiccator Sample Cabinet
The desiccator storage cabinet is used for safe storage of prepared metallurgical samples to prevent oxidation and going off. The storage cabinet can accommodate upto 500 micro samples with sealed door and location for silica blue granuals.
The cabinet can also be use for the storage of polishing cloths offering a clean environment for the storage of polishing cloths upto a diameter of 300mm.
This sample desiccator cabinet is used for the storage of prepared samples to prevent them "going off".  Sample storage is essential for important samples that may need reassessing with no additional grinding for polishing.  So we can see the exact surface observed and the structure remains faithful.
THIS ITEM HAS NOW BEEN SOLD