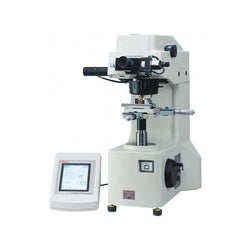 Micro Hardness Tester - Mitutoyo HM124
Mitutoyo micro hardness tester  with a load range 50 grams to 2000g and magnifications 100x, 500x, 1000x ifor measuring various types of specimens. The load duration can be set in 1 sec increments between 5 and 99sec*. The minimum reading of indentation is 0.01µm*. It allows small indentations to be measured with high precision.
Objectives image is from the instrument. Main image stock image.

The Mitutoyo HM micro hardness tester offers a wide range of test loads 50gf to 2000gf is available for measuring various types of specimens with a magnification upto1000x. The load duration can be set in 1 sec increments between 5 and 30sec*. The minimum reading of indentation is 0.2µm*. It allows small indentations to be measured with high precision.

Diamond Indentor
10X Objective 50X Objective 100X Objective
Digital X-Y Stage 25x25mm travel
Load range 0.1 to 2Kg force (100 grams to 2000 grams)

Digital occular

Hardness conversions

Data Outputs

Facility for camera and measurement system