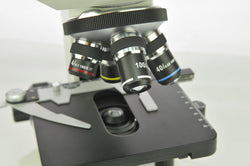 Microscope Servicing
At Spectrographic we have a team of trained and experienced engineers ensuring your machines are kept in the best possible condition.
Our engineers recommend that you undertake a preventive maintenance program at least once per year. we also offer one off services when necessary to cover breakdowns or machine problems.
This involves checking of the machines functions, cleaning and lubrication. As well as adjustment of all mechanical, electrical, pneumatics and hydraulics involving the replacement of required wear parts.
We will issue a compliance certificate as well as a full service report for your internal quality records.