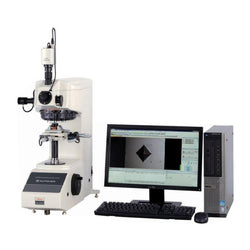 Mitutoyo Automatic Micro Hardness Tester HM200B
The Mitutoyo HM200 is a high specification automatic micro hardness tester with load cell technology and extended load range. Most Advanced System with High-speed Sample Profile Memory Function. High-speed, High-accuracy, High repeatability, Easy-operation, Improved Read Power. More Reliable for Large quantities of testing without human error.
Price is a guide only, please get in touch for enquiries.
The Mitutoyo micro hardness with automated functions offer modular options to allow operation of the hardness test routine to be carried out in automated and fully automatic mode. Its a button to report solution, improving using efficiency, improving test accuracy and reducing costs.

The HM200 series hardness testers with automated system module improves the precison of hardness testing measurements giving a better understanding of material properties. Computer based indent measurement offers hardness values with 0.3 second detection time and improved measurement precision.

Performs all operation required for hardness tester in micro Vickers and Knoop.
An indentation dimension automatically detected in time of 0.3 seconds.
Detection reproducibility of plus or minus 5% is achieved.
Integral LCD Colour Monitor with Touch screen operation.
Automatic turret with manual overide.
These machines use the electromagnetic test force application principle.
Objective lenses with optimum working distance.
Turret can be fitted with up to four objectives and 2 indenters (Knoop/Vickers).

Standard JIS B 7725 ISO 6507-2
Mass 43 kg
Data Output - Yes
Indenter / Objective turretManual operation
Test force generationElectromagnetic
Load controlAutomatic (load, dwell, unload)
Load dwell time0-999 sec (1 sec increment)
XY Stage Dimensions Travel range 25 x 25 / 50 x 50 manual.