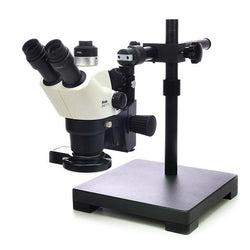 Motic 171 Stereo Microscope
Motic stereo at Spectrographic and Motic introduce the SMZ171 stereo microscope for industrial applications. The high quality stereo zoom microscope offers optical improvements to headline the SMZ series of macro microscopes available from Motic Stereo product line. New materials for electro static discharge compatibility as well as optimized illumination using powerful LED systems are available to offer a modular concept creating a package which can be optimised for many applications using a wealth of component options.
The Motic SMZ171 family of microscopes offers superior optical performance and high quality build quality with a 5 year warranty make it the perfect microscope for a full range of applications in both routine and research fields.