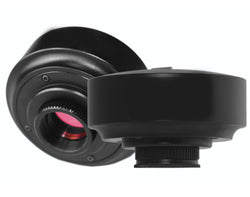 MShot MC30 Microscope Camera WIN7
MC30 professional digital microscope camera use Sony ICX252 CCD with real-time preview function. Up to 3.3 mega pixels allows MC30 professional digital microscope Camera to capture high quality images of bright field, dark field and fluorescence. 
MC30 professional digital microscope Camera can be used under the condition of dim light. Specifically, the applications of MC30 professional digital microscope Camera's digital imaging function include faint light, chemiluminescence, bioluminescence, flow cytometery, GFP,FISH,NIR ,FRET, bright or dark field, DIC, living cells
The USB2.0 design of MC30 professional digital microscope Camera makes it easy to realize the connection between PC and the camera.
Meanwhile, after the installation of the software comes with MC30, preview, capture or video the images become easy.

MC30 Features review:
◆High resolution & high quality image
◆Real time preview and focusing
◆Full field image refresh rate up to 25fps, choosing ROI will be more.
◆USB2.0 design makes it easy to carry and install.
◆Standard C-MOUNT is widely used in connection between microscope and camera.
◆1/1.8" Sony ICX252 CCD, good quality guarantee.