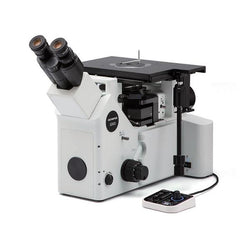 Olympus GX53 Inverted Microscope
The Olympus GX53 inverted metallurgical microscope is a highly advanced microscope that has been designed specifically for metallurgical applications. This microscope offers a range of advanced features, including an LED illumination system, a built-in 6-position objective turret, and a high-resolution camera system that can capture up to 16-megapixel images. These features make it an ideal tool for the analysis of metallurgical samples, including steel samples.
When it comes to measuring grain size, there are two primary methods: the planametric method and the intercept method. The planametric method involves measuring the grain size using an image of the sample taken through the microscope. This method involves tracing around each grain in the image and calculating the grain size based on the traced area. The intercept method involves drawing a series of lines across the image and counting the number of times each line intercepts a grain boundary. The grain size is then calculated based on the length of the intercept lines and the number of grain boundary intersections.

The ASTM E112 and ISO 643 standards provide guidelines for measuring the grain size of metals using both the planametric and intercept methods. These standards specify the equipment and procedures required for measuring the grain size of various metals accurately. The ASTM E1382 standard also provides guidelines for the calibration of microscope and camera systems used in grain size analysis, ensuring accurate and reliable results.

Optical system - UIS2
Observation Method - Reflected light brightfield observation, reflected light simple polarizing observation
Reflected light illumination - White LED, halogen, mercury lamp BF/DF/DIC/POL/MIX
Transmitted light illumination - White LED, halogen BF/POL
Magnification switching method - Nosepiece system
Eyepiece observation - 17,600-146.666um (12.5x-1,500x)
Number of attachable objectives - 4-7
Stopper - AS, FS
Manual stage: Travel range - 50x50mm
Max sample capacity - 5Kg
Dimensions - 280x627x425mm
Weight - 25Kg

- High-quality imaging and analysis for metallurgical samples

- Easy to use and operate, even for beginners

- Versatile observation methods for a wide range of applications

- Motorized stage and interchangeable objective lenses provide flexibility and precision

- Digital camera integration allows for easy image capture and analysis

- High-resolution imaging for detailed analysis of metal samples

- Excellent contrast and color accuracy for accurate observations

- Advanced LED illumination system provides consistent and reliable lighting

- Multiple observation methods allow for a comprehensive analysis of the sample

- Interchangeable objective lenses offer flexibility in magnification and resolution

The microscope's Mplanfl type objective lenses with bright field and darkfield are specifically designed for metallurgical applications. The bright field objective lens provides clear images of the sample's microstructure, while the darkfield objective lens is ideal for highlighting specific features in the sample, such as grain boundaries or inclusions. Both lenses offer high optical performance, ensuring accurate and reliable results.