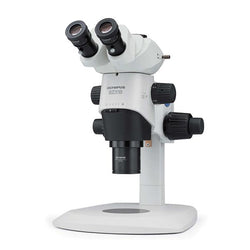 Olympus SZX10 Stereo Microscope
The Olympus SZX10 is a stereo microscope that has been designed for advanced research. It has great resolution with 600 line pairs per millimetre.
The Olympus SZX10 provides a zoom ratio of 10:1. With a broad range of objectives it is a fully modular system offering a range of options. Its compatibility with different imaging devices enables various application-dedicated configurations in materials science.
Superior resolution
High numerical aperture
Large field of view
Long working distance
Ergonomic zoom and focus knobs
Slim design illumination stand

Optical System - Galilean
Observation Tube - Binocular/trinocular/tilting trinocular
Zoom ratio - 10
Zoom range - 0.63-6.3x
Dimensions - 285x335x403mm
Weight - 7Kg