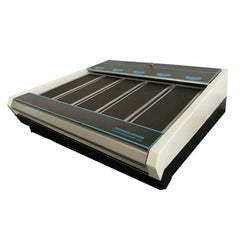 Omegapol 100 Hand Grinder
Metallurgical hand grinder for the sample preparation of low volume metallographic samples to prepare for microscopic observation on macro or stereo microscope.
Small samples can be easily prepared and kept flat, much easier that using a rotating system.  The availability of 5 abrasive rolls allows the operator to use a range of grinding papers from course to fine such as P240 to P1200.
Offering both Wet and dry grinding the system can be used for many applications working with a range of material types for applications such as heat treatment control, Weld analysis, Microstructural evaluation. Fresh grinding paper surface can be easily presented from the 60m rolls and spring type fixturing.

The machine is manufactured from Stainless steel with a cast aluminium base. Hard anodised rollers with paper support plates for long life of the machine.

Grinding stations 5
Roller width 65mm
The weight of the machine is 25 Kg
Dimensions - 565x535x203mm