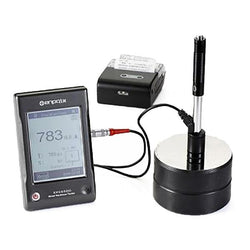 Portable Hardness Tester - Leeb X5500
The x5500 is a portable Leeb type rebound type hardness tester with a compact high performance touch screen PDA type controller.
The system is fitted with universal impact device D. Other special impact devices are available for use in extremely confined spaces, with special component geometry or surface finish.
Test blocks available with certification in  accordance with BS ISO 6508-3:2005 & ASTM E18:14a.
Easy to use
Complete with calibration block
Storage of hardness results
Conversion to hardness scales
Rechargeable batteries
USB connection for downloading of results data

HL Display Range: 0-999HLD
Accuracy: ± 6HL
Unit Display: large LCD with adjustable contrast, backlight, touch screen
Unit Material: shock resistant ABS plastic
Internal Data Storage: 500 measured value
Resolution: 1 HL; 1 HV; 1 HB; 0.1 HRC; 0.1 HRB; 1 HSD; 1 MPa
Battery Type: rechargeable Li-Ion battery
Operating Temperature: 0°C~+50°C (32°F~122°F)
Storage Temperature: -10°C~+60°C (14°F~140°F)
Humidity - 90% max.
Dimension - 135x83x24mm (5.3 x 3.2 x 0.9 inches)
Weight - 228g

The x5500 is a Leeb type, rebound type portable hardness tester with a compact high performance touch screen PDA type controller. The system is fitted with universal impact device D. Other special impact devices are available for use in extremely confined spaces, with special component geometry or surface finish. Features Easy to use Complete with calibration block Storage of hardness results Conversion to hardness scales Rechargeable batteries USB connection for downloading of results data Specifications HL Display Range: 0 -999HLD Accuracy: ± 6 HL Unit Display: large LCD with adjustable contrast, backlight, touch screen Unit Material: shock resistant ABS plastic Internal Data Storage: 500 measured value Resolution: 1 HL; 1 HV; 1 HB; 0.1 HRC; 0.1 HRB; 1 HSD; 1 MPa Battery Type: rechargeable Li-Ion battery Operating Temperature: 0°C~+50°C (32°F~122°F) Storage Temperature: -10°C~+60°C (14°F~140°F) Humidity: 90 % max. Dimension: 135 x 83 x 24 mm (5.3 x 3.2 x 0.9 inches) Weight: 228g