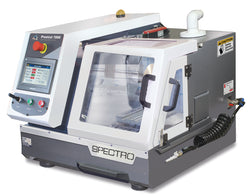 PreciCut 7000
The PreciCut 7000 is a precision section saw designed for cutting all types of materials with ease. It allows for the cutting of all types of materials with selected cutting wheels offering low deformation cutting.
PreciCut 7000 offers a cutting capacity of 50mm diameter with height adjustment of the wheel of 40mm offering wheel wear compensation.
A three axis control allows for multi - cutting of samples and ease of setting up in a range of vices available for the 250mm x 200mm T slot bed.
Automatic Cut – Off switch
Cutting Action – Y Movement Automatic (Longitudinal)
Variable Feed Rates and Cutting Length
Recirculation Coolant System
Door Limit Switch System
Cutting capacity up to 40mm
Wheel Mounting Shaft OD -12.7/25.4 mm
1 HP (750 watts) 3 Phase Motor
Continuously Variable speed system 100-3000RPM
Electrical: 230 V, 50 Hz ( 1 + N + E )
Machine Size: 600mm x 600mm x 500mm (LxBxH)
3 Axis Operation
Cutting capacity up to 50mm
Wheel Mounting Shaft OD -12.7/25.4/31.75mm
User friendly touch screen

| | |
| --- | --- |
| T Slot Table | 250 X 200mm (10 mm slot) |
| X axis | 50mm(manual) |
| Y axis | 190mm |
| Z axis ( Verticle) | 50mm |
| Feed speed mm per minute min | 0.005mm per sec |
| Feed speed mm per minute max | 5mm per sec |
| For automatic | Optional |
| Automatic Y axis (serial cuts) | Optional |
| Openings | On the left and right side |
| Maximum wheel size | 75 to 203mm |
| Maximum cutting capacity | 50mm |
| Variable speed range | 100-5000 RPM |
| Motor | 1.5 KW |
| Laser Positioning | Option(at extra cost) |
| Recirculating System | 20L |
| Arbour Size | 12.7mm |
| Electonic control | PLC |
| Electronic travel measuring | stepper motor with encoder |
| Cutting Force dependant speed control | Intelligent Feed Control for Over Load of the Sample |
| Automatic Pulse cutting | Pulse cutting |
| Step cut/ Diagonal cut. | Step cutting & continuous cutting |
| Direct Positioning Via Joystick | Yes |
| Current safety Standards | Door Interlock (optional) |
| LED illumination | YES |
| Power Supply | 230v/50Hz |
| Size | 810 x 810 x 500 mm |
| Weight | 202 KG |