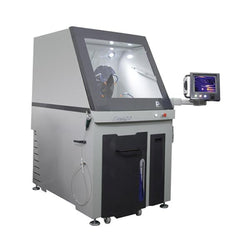 Presi EVO 400
The EVO 400 is a cutting machine that brings a cutting solution for large samples (up to 200mm high and over 200kg).
This new machine is great for workshops and combines sturdiness with ease of use.
Its programmable interface allows for repetitive cutting and has been designed with ergonomics in mind with a motorized hood and touchscreen control panel for easy and efficient operation.
Colour touch screen interface
Password protection can be implemented on the machine
Up to 100 password-protected programs
LED internal lighting
Integrated spray nozzle for cleaning
Optional external 200L re-circulation tank
Interlock switch keeps hood locked during cutting

Rotation speed - 1000-3000RPM
Cut off wheel size - Up to 400mm
Power Supply - 380V, 3 Phases, 50Hz
Motor Power - 7.5Kw
Dimensions - 1140x1600x1910mm
Weight - 750Kg