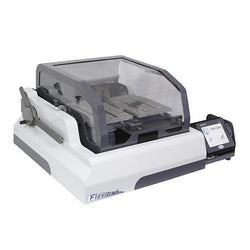 Presi Flexicut
The Flexicut is a precision cutting machine that has been designed to section circuit boards, however this machine being very versatile means it is also suited to a variety of other cutting applications.
The Flexicut offers a wide work space at 390x200mm. It is robust with an ultra-rigid frame, along with a stainless steel table.
The maintenance of this machine is made easy with the self-cleaning guide rails.
LCD touchscreen display
Ergonomic and intuitive user interface with optional password protection
Closure switch to cut off motor when hood opened

Rotation speed - 300-2500RPM
Cut off wheel size - 75-200mm
Power Supply - 110-220V, Single Phase, 50/60Hz
Motor Power - 575W
Dimensions - 765x665x375mm
Weight - 52Kg