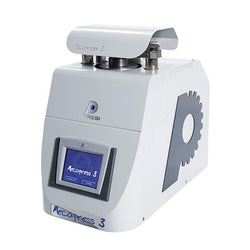 Presi Mecapress 3 Metallurgical Mounting Press
The Mecapress 3 is a fully automated hot mounting press.
It features a very easy to use touch screen interface and is able to memorise over 100 mounting processes.
All mounting parameters are adjustable, allowing for custom programmablity as well as a rapid cycle option and water saving mode.
This is a very powerful, efficient and flexible hot mounting press.
Colour touch screen interface
Up to 100 memorised mounting processes
Automatic cycle
Fast cycle
Adjustable heating time
Adjustable cooling time
Adjustable pressure

Air connector diameter (input/output) - 10mm
Water connector diameter (input/output) - 12mm
Temperature - 100-200°C by steps of 1°C
Heating Time - 0-9999 seconds by steps of 1 second
Cooling Time - 0-9999 seconds by steps of 1 second
Pressure - 300-1800 daN by steps of 1 daN
Mould Diameter - 25.4/30/31.7/38.1/40/50mm
Power Supply - 220V Monophase 50/60Hz
Power - >2Kw
Dimensions - 320x560x530mm
Weight - 65Kg