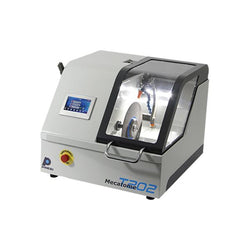 Presi Mecatome T202
The Mecatome T202 is a compact and robust cutting machine that is able to cut a very wide range of materials, from the softest to the hardest ones with cutting envelope of 40mm diameter..
This machine features an adjustable sample arm which can be changed in lateral position and in rotation. This allows the sample to be cut from all angles.
The Mecatome T202 also allows two cutting methods, manual and by gravity/weight or counter weight.
LCD touchscreen display
Ergonomic and intuitive user interface with optional password protection
LED internal lighting
Integrated spray nozzle for cleaning
Interlock switch keeps hood locked during cutting

Cutting capacity - 40mm
Rotation speed - 100-4000RPM
Cut off wheel size - 75-200mm
Power Supply - 110-220V, Single Phase, 50/60Hz
Motor Power - 960W
Dimensions - 535x410x590mm
Weight - 55Kg