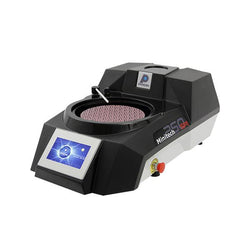 Presi Minitech 250/300 SP1
The Minitech SP1 series are a group of single station polishers equipped with platens from 200-250mm or 250-300mm depending on the variant.
These extremely reliable machines provide a great polishing experience as well as being very user friendly and robust.
Each model has a removable bowl that is easy to clean and maintain as well as a multi-jet ramp with flow control. This cools the platen evenly and also reduces water consumption.
LCD touchscreen display
Ergonomic and intuitive user interface
Emergency stop button
One platen
One motor
One watering ramp
One removable bowl

| | | |
| --- | --- | --- |
| Specifications | 250 | 300 |
| Water Inlet | 12mm | 12mm |
| Water Outlet | 32mm | 32mm |
| Platen Diameters | 200-250mm | 250-300mm |
| Rotation Speed | 20-700RPM | 20-700RPM |
| Power Supply | 230v | 230v |
| Motor Power | 750W | 1500W |
| Dimensions | 510x810x330mm | 620x875x330mm |
| Weight | 35Kg | 42Kg |