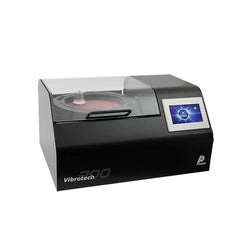 Presi Vibrotech 300
The Vibrotech 300 is a vibration polisher with a diameter of 305mm. It is made with robust, industrial grade materials and components.
The machine features an LCD touchscreen display with an ergonomic and intuitive user interface.
PRESI developed a system allowing the VIBROTECH to transmit very little vibration to the work surface, which provides significant silence in a laboratory environment.
LCD touchscreen display
Ergonomic and intuitive user interface
Transparent hood
Preserved samples
Silent operation
Clockwise rotation
Adjustable vibration frequency and amplitude

Polishing Bowl Diameter - 308mm
Platen Size - 300mm
Vibration Frequency - 80-110Hz
Vibration bowl power - 519W
Power Supply - 230v
Dimensions - 715x396x554mm
Weight - 90Kg