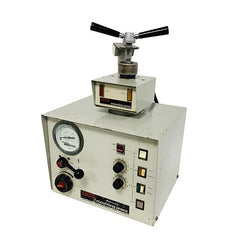 Refurbished Metaserv Mounting Press
This is a Metaserv mounting press for encapsulation of metallurgical samples.
This compressed air driven machine offers a fully automatic cycle with heating and cooling parameters controlled by the clocks on the front of the machine.
The mounting press has been refurbished and works as if new. It is a great mounting press available at a low price.
Mould Assembly Size: 40mm, Water connection size: 8mm pushfit, Drain connection size: 8mm (ID) 14.3 (OD), Air connection size: 8mm pushfit, Power: 240v mains, Dimensions: 40x40x60 cm, Weight: 40kg
AUTOMATIC W/ HEATER TIMER + WATER