Spectrographic
Silicon Carbide Grinding Papers NA 300mm (pack of 100)
| Image | Part Number | Price | Variant | Purchase Quantity |
| --- | --- | --- | --- | --- |
| | 1343120 | $98.00 | Abrasive papers 300mm Non adhesive / waterproof plain backed NA P80 | |
| | 1343130 | $84.00 | Abrasive papers 300mm Non adhesive / waterproof plain backed NA P120 | |
| | 1343140 | $77.00 | Abrasive papers 300mm Non adhesive / waterproof plain backed NA P180 | |
| | 1343150 | $77.00 | Abrasive papers 300mm Non adhesive / waterproof plain backed NA P240 | |
| | 1343160 | $77.00 | Abrasive papers 300mm Non adhesive / waterproof plain backed NA P320 | |
| | 1343170 | $77.00 | Abrasive papers 300mm Non adhesive / waterproof plain backed NA P400 | |
| | 1343180 | $77.00 | Abrasive papers 300mm Non adhesive / waterproof plain backed NA P600 | |
| | 1343190 | $77.00 | Abrasive papers 300mm Non adhesive / waterproof plain backed NA P800 | |
| | 1343210 | $77.00 | Abrasive papers 300mm Non adhesive / waterproof plain backed NA P1200 | |
| | 1345100 | $286.00 | Abrasive papers 300mm Non adhesive / waterproof plain backed NA P2400 | |
| | 1345110 | $241.00 | Abrasive papers 300mm Non adhesive / waterproof plain backed NA P2500 | |
| | 1345120 | $286.00 | Abrasive papers 300mm Non adhesive / waterproof plain backed NA P4000 | |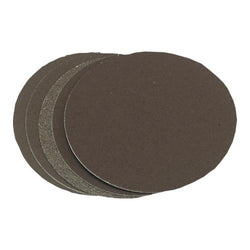 Spectrographic
Silicon Carbide Grinding Papers NA 300mm (pack of 100)
Spectrographic supply a comprehensive range of paper backed grinding discs for metallurgical preparation.  Grinding papers are available from Grit size P80 to grit size P4000.
The superior range of grinding papers are designed to offer high quality grinding in preparation to metallurgical polishing using water cooled grinding machine.
Plain backed grinding papers can be held on the machine using GritFix to adhere to magnetic polishing platen.
Supplied in packs of 100
Diameter 300mm