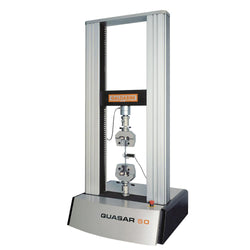 Galdabini Quasar 50
The Galdabini dual column benchtop testing machine Quasar 50 - 50 kN is the ideal solution for testing medium sized metal samples, steel, aluminium, light alloys as magnesium casting alloy.
Programming tests and monitoring results can be controlled through the powerful and Intelligent Graphwork control software, which allows complete and accurate data management in accordance with European, North American and International Standards. This instrument is suitable to be used both in production lines where the operator has to be fast and efficient and can accurately control the test with the optional remote-control unit and also laboratory environments where the advanced software lets users analyse the test data.
They are typically used for static test like

Tensile test: metal ISO6892-1 (method A + B), plastic ISO527, rubber DIN 53504
Compression test: e.g. metal DIN 50106, components in automotive / industry, assemblies, spring testing …
Flexure test: e.g. metal DIN EN ISO 7438, plastic EN ISO 178, flexure test on welding's …
Cyclic tests: e.g. Mechanical fatigue of specimen (low dynamic), components …
Tear test, peeling test, shearing test , friction test and much more

With this kind of universal testing machine you may perform tests on all kind of materials like metal, wood, textile, composite, plastic PP PU GFK CFK and other materials, components and structures.

The table top version of QUASAR Universal testing series are available as single column (QUASAR 2.5 kN) or as double column version for maximum forces of 5 | 10 | 25 | 50 | 100 kN. Additional there are available heavy load machine like QUASAR floor standing models forces 200 - 2.000 kN

The high performance and longevity are granted by a careful concept and a stiff monarchical structure and state of the art German electronic. This particular in accordance with the traditional "GALDABINI - Quality".

Technical Specifications

Capacity of frame and max allowed load – 50 kN (11,240 lbf)
Standards met or exceeded – ISO 7500-1, ASTM E4, EN 10002-2, JIS B7721, GB/T 16825.1, DIN 51221, BS 1610 and other equivalent
Load cell reading resolution – Over 3 million division (24 bit A/D converter)
Frame stiffness (Average) – 62,500 N/mm
Max deformation at full load – 0.8 mm
Stroke resolution – 0.043 μm
Speed at maximum load (during test) – 0.0005 – 500 mm/min
Accuracy of positioning repeatability – 0.02 mm (20 μm)
Accuracy of the set crosshead speed – 0.5% of setting speed
Total stroke – 1,000 / 39.37
Daylight between columns – 350mm / 13.78 in.
Testing area width – Unlimited
Power Supply – To be chosen: 220V±10% 50/60Hz or 120V±10% 50/60Hz (other on request)
Power Rating – 1.300 W
Machine weight (without accessories) – 255 Kg (562 lb)
Finishing – Silver RAL 9006 / Black RAL 9011
Room temperature – From +5 to +40 °C
Air humidity (without condensing) – Max 80%
Internal data sampling rate – 1,000 Hz
PC data transmission rate – 500 Hz
Dimension (HxWxD) – 1,641 / 64.61 x 790 / 31.1 x 780 / 30.71 in.
Size when packed (approx) – 950×950 H1,900
Noise level – < 72 db

Available Main / Auxiliary Load Cells

The main load cell is always a 50 KN. No limit in number of auxiliary load cells to be used under the main one. All load cells can work in compression and tensile.
Nominal sizes – 5kN 10N 20N 50N 100N 250N 500N 1kN 3kN (Max Load software limited)

Additional Options

Extended Height and Width frames available
Kevlar ball screw covers – (couple)
Silenced air compressor 0.75 Kw 1,450 rpm 230V 50Hz 1A 98 litres/min
Increased speed of crosshead up to 1000 mm/min
Internal piping with solenoid valves to use pneumatic device by keypad – compressed air line required (min 5 bar)
External piping for pneumatic device with foot command – compressed air line required (min 5 bar) – filter, regulator & indicator included
Table for machine, PC and printer (width x depth x height mm 1750 x 750 x 740 600 Kg max) – white RAL 7035 with 6 black support
Table for PC and printer only (width x depth x height mm 900 x 800 x 730) – grey
Touch screen (~ 7 inch) colour monitor (to be use as keypad)
Calibration certificate class 1 in range 1%-100% of full load
Calibration certificate class 0.5 in range 1%-100% of full load
Extension of certification class 1 in range 0,2%-1% of full load
Touch screen PC all-in-one with support on column
USB Web cam(14) – the use of camera for recording test requires the special software module
Electronic power supply stabilizer
Integral barrier – Aluminium profile and mm thickness polycarbonate panels – Split opening front and rear door , with electric switch
Extra price for reinforced structure and panels in polycarbonate 8 mm thickness
Analogic input channel (strain gage type) for longitudinal deformation
Analogic input channel (LVDT type) for longitudinal deformation
Second analogic input channel (strain gage type) for transversal deformation
Second analogic input channel (LVDT type) for transversal deformation

Ideal for testing medium sized metal samples
Steel
Aluminium
Light alloys as magnesium casting alloy

As well as supplying a comprehensive range of new and refurbished metallography equipment and consumables, Spectrographic also has a specialist team of technicians. We offer diagnosis, servicing, training and generally an option to ensure the efficient operation of your equipment. Our servicing and support can be tailored to your individual needs by arranging a visit when and where is the most convenient to you.

Such equipment and machinery generally requires a yearly service in order to maximise accuracy, efficiency, quality and also longevity in lifespan. Our servicing encompasses checking of the machines functions, cleaning, adjustment of all mechanical, electrical, pneumatics and hydraulics, as well as the replacement of required wear parts and software updates. Finally, as well as offering tailored service plans, we issue a compliance certificate as well as a full service report for your internal quality records.

The service and support element of Spectrographic is something we are excited to see growing. By ensuring prolonged customer satisfaction, this service and support gives you, our customers, a go-to and, not only does it instil confidence in the product you have purchased, but also confidence in us as a company. We also enjoy the troubleshooting which has resulted in a mutual positive between our customers and ourselves. It is important to understand that Spectrographic are here as a metallurgical support unit as well as a supplier.