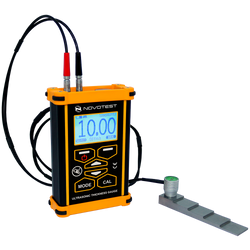 Ultrasonic Thickness Gauge NOVOTEST UT-1M-ST
EMAT Thickness Gauge NOVOTEST UT-3M-EMA is a new development of the NOVOTEST company, which will allow our users to solve not only the standard tasks of testing the thickness of metal products, but also to carry out tests in cases where traditional methods, such as piezo-ultrasonic, laser-optical, X-ray, mechanical, etc. – not applicable.
Electromagnetic-acoustic (EMA) technology for measuring thickness is based on the excitation of ultrasonic waves in the material by the generator of the device's probe, and fixing the path time of ultrasonic waves in the material.
Unique additional protection of metal housing;
Saved data can be transmit to PC;
Material selection and automatic setting of ultrasound velocity;
Large graphic display of high contrast and backlight;
Display of measured thickness in mm and inches;
Convenient menu in the device;
Wide choice of UT probes with preset settings in the device;
Modes of statistical processing of measurements;
Ability to restore factory calibrations;
Ability to adjust all parameters of the acoustic path;
Ability of further adjusting the user gain directly from the measurement mode;
Wide range of testing;
Mode of audible and visual alarm when break the preset ranges

Measuring thicknesses range , mm:

Probe 10MHz – P112-10-6 / 2
Probe 5MHz – P112-5-10 / 2
Probe 2,5MHz – P112-2,5-12 / 2

0.5 … 500 or more

range 0.8-30 mm
range 1-75 mm
range 2-300 mm

Probe dimensions, mm:

Probe 10MHz – P112-10-6 / 2
Probe 5MHz – P112-5-10 / 2
Probe 2,5MHz – P112-2,5-12 / 2

D12×15 mm
D17×20 mm
D20×21 mm

Diameter of probe contact area, mm:

Probe 10MHz – P112-10-6 / 2
Probe 5MHz – P112-5-10 / 2
Probe 2,5MHz – P112-2,5-12 / 2

Size of plate:

Probe 10MHz – P112-10-6 / 2
Probe 5MHz – P112-5-10 / 2
Probe 2,5MHz – P112-2,5-12 / 2

Setting range of the ultrasonic velocity, m / s
1000-9999
Discrete readings on the digital indicator, mm
0.1
Response time, with no more than
1
Basic measurement accuracy, mm
± (0,01 T+/- 0.05)
Echo-Echo mode (through coating measuring), max thickness of coating, mm
1
Standards
ASTM E797
Storage of measurement results
256
Overall dimensions, mm
120x60x25
Operating temperature range, ° C
-5 to +40
Power supply
2 AA batteries
Time of continuous work hours, not less, h
10
Weight of electronic unit with battery, no more, kg
0.2

Electronic unit Ultrasonic Thickness Gauge
Transducer (probe) – 1 pc
AA batteries – 3 pcs
Charger
Cable for PC
Operating manual
Case