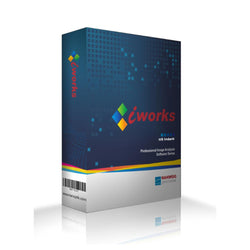 iWorks Vickers Hardness Tester Software iHS
Modular hardness measurement software with digital camera to interface with modern hardness testers. This system is designed for case hardness depth judgement and individual reporting of hardness testing giving repeatable automated measurement of hardness impression. Traditional ocular measurement is difficult to control and can lead to variable. For computer measurement the indentation is enlarged through a high resolution lens and the size of the indentation can be automatically obtained by image processing algorithm to give accurate Vickers hardness results. System is supplied with software support, high resolution camera and standard camera adapter.
Three levels are available offering manual measurement or automatic measurement with options for computer control of the hardness tester to control load, time, objective lens and measurement.
HS (This version adds the following features)

Auto detect by one-click
Revision function for automated measure results by user
Remote control & communication with hardware

HX (This version adds the following features)

Auto Reading (Automatic Measurement)
Overlay Chart
Report Manager

Requirements

PC with a Pentium-Class Processor; Pentium IV3.0GHz or Higher Recommended
Microsoft Windows Windows 7 (32bit or 64bit) or Windows 10
512MB of RAM or More Recommended
150MB Hard-disk Space
CD-ROM drive
32M Video Memory or More Recommended
Microsoft Mouse or Compatible Pointing Device
USB-Port for Hardware Key